The Future of Education with Justine Greening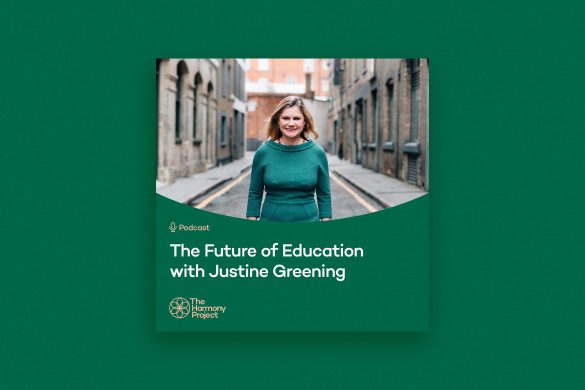 In the second episode of our podcast series on the future of education, The Harmony Project's Director, Richard Dunne, is joined by former Secretary of State for Education, Justine Greening.
Justine begins by sharing her own experiences of education in South Yorkshire, through primary and secondary school, to studying economics at college – an experience which Justine said, 'changed her life' – and to eventually becoming a politician. Now, as founder of the Social Mobility Pledge campaign, and the Levelling Up Goals architecture, Justine explains the need for schools and businesses to support young people in their journey through education to employment, ensuring that "education is a means for developing more opportunity and developing talent more effectively".
"One of the most important things is for education to help you find the thing that you're really brilliant at" says Justine, noting too, the wider community responsibility to help young people's development. "Everyone has a role to play in delivering equality of opportunity" says Justine, explaining that whilst social mobility begins in education, it certainly doesn't end there.
A long-time campaigner for equality of opportunity, Rt Hon Justine Greening is the founder of the Social Mobility Pledge campaign and the Levelling Up Goals architecture, through which she is working with leaders across the private and public sectors, including universities to develop levelling up strategies that deliver change on the ground for communities. Between 2010 and 2018, Justine served as a UK Cabinet Minister for nearly 8 years, as Secretary of State for Education, International Development and Transport and prior to that as Economic Secretary to the Treasury.