A Harmony Project Podcast with Lord John Bird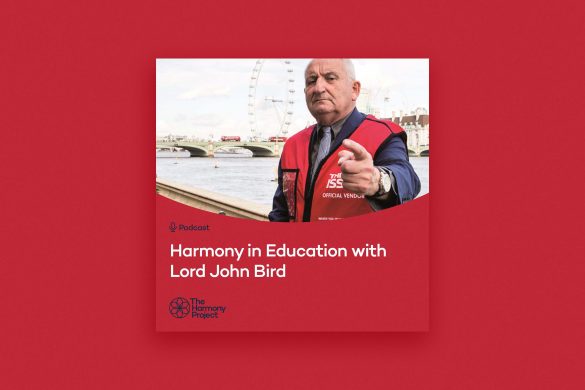 In this special edition podcast, Richard Dunne speaks to an important guest - Lord John Bird, Founder and Editor-in-Chief of the Big Issue.
Richard is particularly interested in speaking to John about his current campaign around the Wellbeing of Future Generations Bill. The Bill aims to tackle some of the key social and environmental challenges of our time through long-term thinking and planning – which would include a reframing of our approach to education. Such a vision is strongly aligned with the Harmony Project's approach to learning, and Richard is therefore keen to understand more about the philosophy behind it.
Throughout their conversation, John reflects upon his own personal development. He explains how a disruptive upbringing in Notting Hill – when it was still a very 'unposh slum' – ­led him down a destructive path. As a teenager, he spent time in and out of boys' prisons, struggling with undiagnosed dyslexia and a general sense of anger and frustration. However, an unlikely encounter in prison with education, and particularly the arts and the environment, transformed his life.
His own experiences have led John to believe that ultimately, a good education is critical to successful life chances. 'I don't want to leave the next generation, and the generation after it, having to suffer the problems that I went through', he explains. 'This, to me, is about education.' With the Future Generations Bill, he hopes to further improve education, and introduce a new kind of pedagogy – one which fosters children's innate curiosity and passion for knowledge, and nurtures our environmental, social, cultural and economic wellbeing.